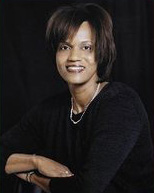 Gloria Thomas Anderson, LMSW
Author/Inspirational Speaker/Educator
Gloria Thomas Anderson is the founder and President of Heart Tones™ Inspirational Company that produces and distributes her authentic writings as gifts, greeting cards and educational resources.
She is a licensed master's degreed social work educator, author and international motivational speaker. Gloria teaches courses in grief and loss, cultural diversity, child welfare and social work healthcare.
She presents and lectures on healthcare decision-making and spirituality, cultural sensitivity, and a range of inspirational topics, such as: living a purposeful life and women's issues.
Gloria understands the critical challenges many healthcare providers face to successfully meet mandated goals to become more culturally competent in an ever-evolving multicultural society and healthcare system.
Gloria has authored three books and developed and wrote a population-based cultural competency training manual for mental health and social service professionals. She passionately facilitates professional development diversity trainings for healthcare workers, non-profit organizations, corporations and educational entities.
In 2003, she began writing her free online column, "Inspiring Insights for Your Soul and Spirit", which grew to over 6,000 readers in the first five years! She has also been a contributing writer for other websites, newspapers and magazines, at one point reaching the top Platinum Author status as #1 Writer of 'Women's Issues' for Ezinearticles.com!
In 2006, Gloria wrote a groundbreaking educational paper for her Master's thesis research project on the cultural, historical and generational values that influence how many African-Americans deal with end-of-life issues. She received a grant award from the Women's Council at University of Missouri-Kansas City, to turn her paper into an actual patient education resource.
In May 2006, she wrote the first published edition of "The African American Spiritual and Ethical Guide to End-of -Life Care—What Y'all Gon' Do With Me (Let's talk about it)" (AAEOL).  Gloria was and remains the sole author of the work becoming a subject-matter expert while presenting her paper at the North American International Conference on Spirituality and Social Work in Ontario, Canada in May 2006.
Her paper was also published in "The Society for Spirituality and Social Work Forum". The AAEOL Guide is now in its' 6th printing.
She was prominently featured for research and writing The AAEOL Guide in two nationally promoted DVD's through Hospice Foundation of America in 2009: Living with Grief-African Americans and End of Life Care (Special Report) and Living with Grief-Diversity and End-of-Life (16th Annual Teleconference).
A native of Kansas City, Missouri, Gloria has been a radio talk show host and a guest featured on various television/radio shows, including NPR affiliate, KCUR and other print media for her books and accomplishments, including Minority Nurse Magazine.
Gloria is a certified Behavioral Consultant through the Institute for Motivational Living in New Castle, PA, a certified FastTrac Facilitator through the Kauffman Foundation in Kansas City, MO, and a licensed minister through Word of Life in Bedford ,VA.
She is a member of The National Council of Black Studies and the National Association of Multicultural Education. Currently working on her doctorate, Gloria continues to follow her passion and purpose!
On a personal note, Gloria is the proud mother of two grown daughters and the grandmother of four. She enjoys playing her keyboard, walking and bringing smiles to those who cross her path.